Spring is finally here! A weird Spring for sure, for many of us are quarantined because of coronavirus. While we are social distancing, nature is bursting and brings delicious fruit and vegetables to our table.
Sourcing fresh fruit and vegetables can be tricky these days. Remember that tinned and frozen are valid alternatives. Frozen and tinned fruit and veg can be cheaper than fresh, they are usually picked at when they are full-grown and mature meaning a higher content in micronutrients.
To finish, please shop sensibly: do not stockpile yet do not go out too often, and rinse your fresh fruit and veg carefully.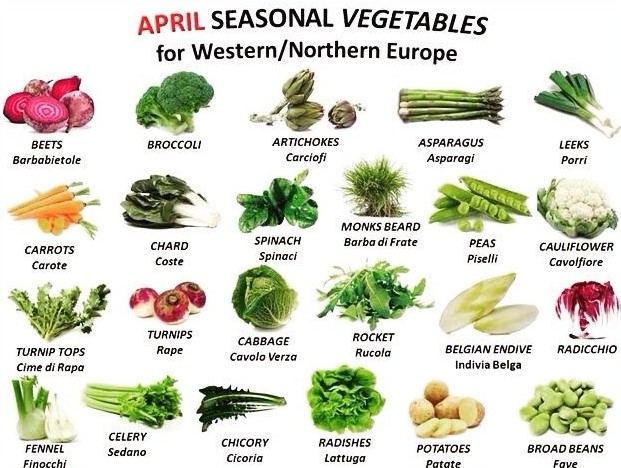 Fruits
Apples and pears are still in season in April, so are kiwis, oranges, pomelo, lemons and limes. You may find the first local varieties of strawberries in your shop as well as rhubarb. Ideal to bake a pie or crumble!
Vegetables
As you can see above, caulis and cabbage, beetroots are still in season. Versatile cucumber and carrots too, and you may find the first asparagus. Leafy greens such as lettuce and spinach are a good means to add vitamins and minerals to your plate.
Whether you have them fresh, tinned or frozen, enjoy your fruit and veg!