Today's post will be the first of a series about habits (and change). The objective is to give you an explanation of why we have habits, and how we can change them to make them literally work for us. Why do I write about habits here? Because a lot of our lifestyle choices (diet, exercise, alcohol consumption, smoking…) consist in habits, and if we want to make a lifestyle change last, having some basic knowledge in psychology and neuroscience can help. Let's start by having a look at our brain.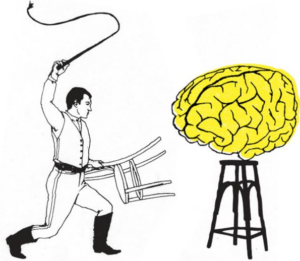 As human we have a uniquely large executive brain that support executive functions such as working memory, flexible thinking, impulse control, self monitoring, motivation, emotional control, willpower, planning, prioritisation and task management. These functions are future-oriented and enable us to make decisions according to our objectives.
Executive functions require a lot of mental energy, which can be drained by the demands of our busy, modern lives, leaving us feeling low.
This is where the autopilot, that sits deep within our brain, comes handy. The autopilot does not interact with motivation, it is made of habits. Habits are stimulus-response behavioural task, they are automatic. Brushing your teeth, going to the gym every Monday lunchtime, eating porridge at breakfast, adding salt to your food….
If our habits support our goals, we rely on autopilot more and have more mental energy available for our executive brain. We are more motivated, we perform better. When our habits don't align with our objectives, our executive brain uses extra mental energy to suppress them, eventually we risk feel drained. The problem is that we cannot always replenish our mental energy enough, or reduce the demands of our executive brain.
Therefore, to cope with the demands of our busy lives, we can build habits that support our goals, while changing the habits that go in their way.